Vintage Improv has several Teams with a regularly scheduled show at the VIF Follies. Please note that the performance dates are subject to scheduling changes, so be sure to check the VIF Follies on Facebook for up-to-date information.
Timeless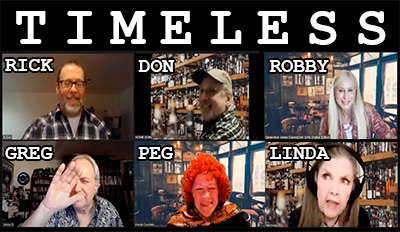 PERFORMING AT THE FOLLIES THE 1st SUNDAY OF EVERY MONTH
The Timeless cast (Rick Horner, Linda Ray, Peg Davis, Greg Philippi, Don Slovin and Robby Foss) have created a world, at the Double Nickel, where second chances are always on the menu. "Gambling" is just a friendly card game among the locals, who inevitably lose… but get a second chance to mingle with stars, or the stars that were almost stars. Or folks who had a brush with celebrity once… Only the Digital Dispatch can sort it out.
Meet the cast and experience their digital misadventures at the VIF Follies, under the direction of Diana Brown. Timeless at the Double Nickel Rooftop Lounge and Bar: a place where everyone is welcome! Okay, maybe the meatloaf may not be that meatloaf-y, but you're sure to leave with an aphorism, like how they say meatloaf in Shikrut. And your second chance…
---
Class Act
PERFORMING AT THE FOLLIES THE 2nd SUNDAY OF EVERY MONTH
---
Ramen On Sunday
PERFORMING AT THE FOLLIES THE 3rd SUNDAY OF EVERY MONTH
Ramen On Sunday is Fálki Heiđdóttir and Steve Circeo.
Fálki and Steve started improvising together in 2017, and they formed Ramen On Sunday in 2019. They specialize in grounded scenework, which can get absurd at times, but always manages to find the humanity within the characters.
---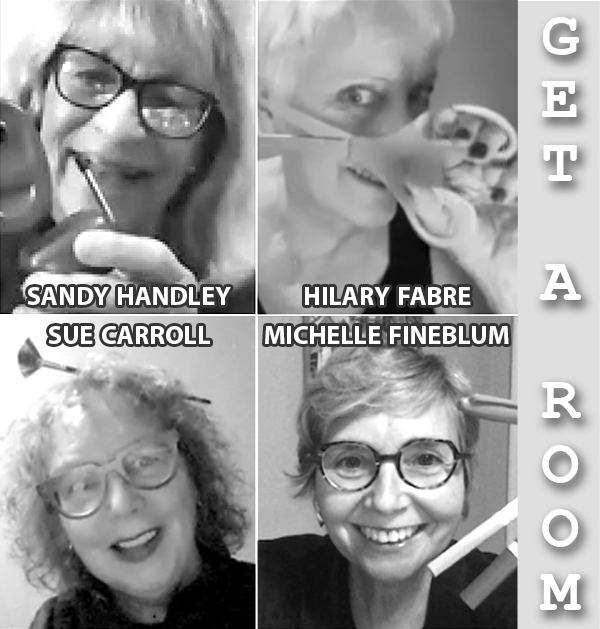 Get A Room
PERFORMING AT THE FOLLIES THE 3rd SUNDAY OF EVERY MONTH
Get A Room is Sandy Handley, Hilary Fabre, Sue Carroll, and Michelle Fineblum.
The members of Get a Room enjoy playing objects, which oddly brings out their human qualities and connectedness.
---
Sonic Boom-Boom
PERFORMING AT THE FOLLIES THE 4th SUNDAY OF EVERY MONTH
Sonic Boom-Boom is a long-running online resident team for VIF. Coached by Miki Manting, current members include Lyn Means (FL), Jan Munns (UK), Joan Larason (MA), Michelle Fineblum (MA), Don Slovin (NY), Tom Haselwood (FL), Susan Parker (MA), Jude da Silva (WA), and Judy Weatherbee (ME).
Sonic Boom-Boom focuses primarily on Miki Manting's Photogravure improv form, which uses old photographs as inspiration. The photographs spark monologues, which, in turn, inspire two-person scenes. While the form was created by Miki Manting, it's been slowly refined by Sonic Boom-Boom.
---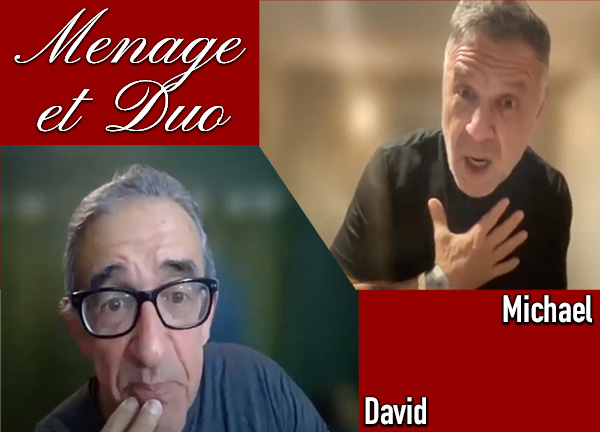 Menage et Duo
PERFORMING AT THE FOLLIES THE 4th SUNDAY OF EVERY MONTH
Menage et Duo is the collaborative effort of two experienced improvisers, David Silberman and Michael Shelby. Their signature form is best described as Dramatic Improv: driven by character, exploring real feelings, and rooted in authenticity.