TEAM MESSING performs every Sunday at 8:30pm Eastern Time at The Follies.
In March 2022, members of a ragtag ex-commando unit, court-martialed for crimes they did not commit, escaped military prison and banded together to become soldiers of fortune, while trying to clear their names and avoid re-capture.
No. Wait. That's the premise of The A Team.
In March 2022, a ragtag crew of virtual strangers (virtual thanks to the VIF community and Zoom) banded together to become a formidable improv house team, while trying to clear their names and avoid re-capture. Armed only with their wit and a lack of decorum, these performers of an uncertain age Zoomed in from around the globe Monday night after Monday night to hone their improv skills under the direction of renowned and unhinged improv coach Susan Messing, founder of the Annoyance Theater in Chicago and many more credits listed below.
And they call themselves JUST MESSING AROUND. Catch them in the act at The VIF Follies every Sunday at 8:30 p.m. EST.
The Coach
Susan Messing
"If you're not having fun, you're the asshole."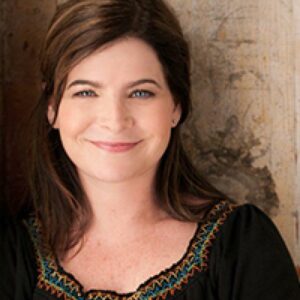 Susan Messing has been an improviser and comedian for almost thirty years. A New Jersey native and graduate of Northwestern University's Theatre School, she is an alumna of the iO Theatre, Second City's Mainstage, and a founding member of Chicago's infamous Annoyance Theatre. Susan created and has taught her curriculum at iO and iO West, The Annoyance Theatre, The Second City and around the globe. Susan is an adjunct instructor for DePaul University, The University of Chicago, and The School at Steppenwolf. Her standup act with her puppet, Jolly, was featured at the HBO/US Comedy Arts Festival in Aspen, and on Comedy Central's Premium Blend and NBC's Late Fridays. She has been lauded as "Improviser of the Year" by Chicago Improv Festival, "Best Improviser" by Chicago Reader and the "Funniest Woman in Chicago" by Chicago Magazine.
The Cast
Lauren Baumbauer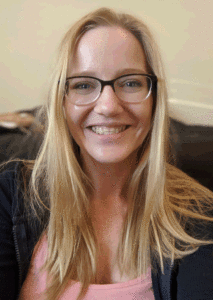 "I don't wear the opinions of others anymore, I learnt to dress myself."
Lauren Baumbauer has played, directed and produced various improvised plays and teaches theatrical-based improv. A founding company member of Modjeska Unscripted Theater (Lake Forest, California), she is also a member of Synergy Theatre, Murder Cats improvisation, The Unwatchables (performing in The Bat), and The Global Improv Project: Smells Like Ghosts. Lauren is often found at Impro Theatre in Los Angeles, and plays character- and game-based improv with Friday. She has studied and played in multiple styles of improv with fantastic people from around the world, but keeps narrative improv close to her heart. Cats take up most of the rest of the space. You may even find her pet-sitting a variety of her furry friends, from dogs to chickens—and, of course, cats.
Carolyn Cole
"Never stop improv-ing!"
Carolyn Cole took her first major improv intensive with Susan Messing and Rachael Mason at Second City eight years ago, then went back for a second round with these two dynamos. She hasn't stopped since. What pulled her to improv? Carolyn says, "I could feel improv brushing over me in a very broad way. The principles and practice of 'yes…and' contain wisdom that serves as a guide in both life and art. I love it." Seeking both inspiration and challenge, Carolyn continues to travel from her North Carolina home to improv meccas in the U.S,. Canada and abroad. She teaches improv for Duke University's OLLI program and the Durham Arts Council. Carolyn once started a JTS Brown troupe that festival-toured for several years. During the pandemic years, Carolyn could usually be found in front of her computer, accessing improv classes and performing. If you want details, try http://improvnow.org/carolyns-training/
Frank Egidi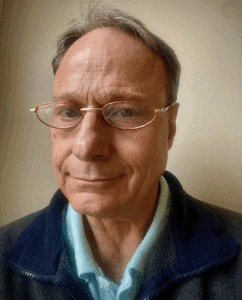 "I love you more!"
Frank Egidi discovered the wonderful world of improv in the Chicago area 20 years ago, and has had the privilege of playing at Second City (in the troupe Uncomfortable Silence), iO, The Annoyance, Comedy Sportz, One Group Mind (with Well Read Fred) and Theater Momentum (The Einstein), and Studio 773 (Knowing and Wanting, a dramatic improv show). Through VIF, he is blessed to be able to continue his Improv Journey with friends around the world. Just for fun, he has a degree in horticulture and has had some strange pets: alligator, lizard, 10 fish tanks, an outdoor koi pond, mink, and a wild hawk—not to mention horses, bunnies, ducks, sheep and, of course, geese.
Betse Green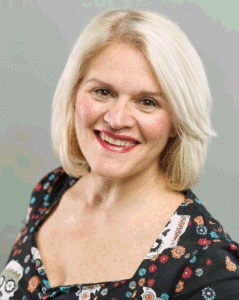 "The best things in life aren't things."
Betse Green has been a very active member of the Portland, Oregon, improv scene since 2002. Currently, she is an ensemble member and teacher at Curious Comedy Theater and CSz (ComedySportz) Portland. She also performs regularly with the acclaimed indy teams B&B, B.A.B.E., Peachy Chicken, and Bliss. Her talents have been showcased performing, directing and teaching at improv festivals, including VIF, and theaters across the globe.
Susan Guidi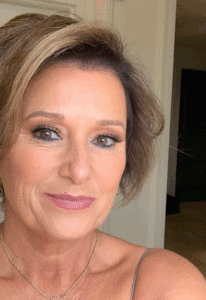 "You are not too old and it is not too late."
Susan Guidi hails from Tampa, Florida, and has performed standup comedy since 2005 and Improv since 2015. Prior to the pandemic, Susan was a house team member of The Improvaholics and Your Middle Child. Susan has been an active member of Vintage Improv since 2020 and has performed with Farrago musical improv and The Silver Lining. Susan has enjoyed classes with Improv legends Laura Hall, Michael Gellman, David Razowsky, Patti Stiles and many more. When she isn't performing Improv, Susan is a competitive bodybuilder.
Sandy Handley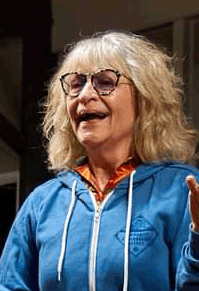 "Creativity is not the clever rearranging of the known."
Actively involved in improv for 13 years, Sandy Handley has completed most improv programs from the many and varied schools in California's Bay Area, including BATS. In the last 2 years she has studied online with Andel Sudik, Shaun Landry, Karla Dingle, Patty Stiles, Amanda Bigford, Susan Messing, Jay Sukow, Joya Cory, Rachel Hamilton, David Escobedo, Michelle Gilliam, Stephanie Rae, Blue Cavell-Allette, and Gary Schwarz and musical improvisation through Dave Asher, Rick Horner, and Laura Hall. She performs regularly online with other VIF virtual veterans in Get a Room at The Follies; the international Tiny Dinos; The Vocalettes at Highwire Improv's weekly shows; on Queen City Comedy's house team Tooth Fairy Conspiracy, and on an audio-only team through Vinny Francois's Improv College. In the late '70s and much of the '80s, Sandy sang lead and wrote songs for an all-women's rock & roll band she started.
Robin Lipton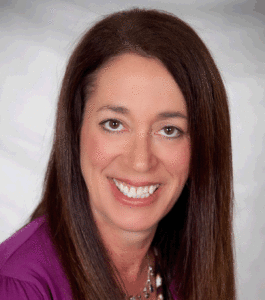 "I plan for the best, but if the worst occurs, I will be ready!!! "
A pediatric speech pathologist, Robin Lipton began improv at Finest City Improv in San Diego, California, in 2015. She took all of the offerings at that theater and played whenever possible. Now in Tucson, Arizona, Robin loves being part of Unscrewed Theater there and, since the pandemic, has taken part in all of the online improvisation she could.
Miki Manting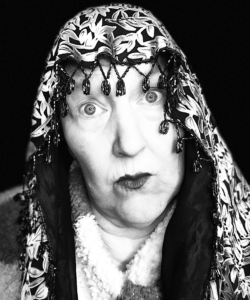 "Dance like there's nobody watching."
Miki Manting Is the Artistic Director for VIF. In the wildly uncertain days that began in March 2020 , she became an improv midwife assisting at the birth of virtual improvisation. Her vision was instrumental in staging what is probably the world's largest virtual improv festival. IRL she is an active member of the Boston improv community. A Massachusetts ob-gyn , she began in 2001 working with medical schools to create simulations augmented with improvisation. One of her favorites was getting medical students and residents beyond their personal discomforts in taking sexual histories. She did this long before she even knew there was such a thing as Applied Improv!
Monika Ozdarska
"Nawet najciemniejsza chmura jest z góry jasna."
["Even the darkest cloud seen from above is light."]
A Polish improviser since 2012 living in Warsaw, Monika Ozdarska has studied with over 100 international teachers. She plays locally with Bez Klepki and also with various groups and collectives online. Monika has taught in Poland, The Netherlands and Germany, as well as using applied impro in corporate settings. Co-founder of Warsaw's Centralna Spółdzielnia Komediowa, where Polish improv groups perform few times a week, she is also the founder of The Art Of Yes Facebook page, sharing improv-related links, quotes, and Zoom podcast interviews with guests Patti Stiles, Susan Messing, Jill Bernard, Jeff Michalski, David Razowsky, Joe Bill, Felipe Ortiz, Shawn Kinley and many others. During the pandemic, Monika and American improv legend Jeff Michalski created a duo project called WePolak, a long-form show that used elements of word, gesture movement and culture to discover an emerging theme.
David Silberman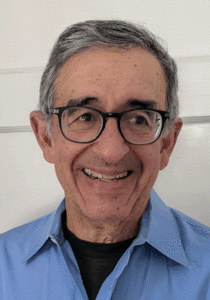 "I would do anything for love. But I won't do that."
An improv student since 2014, David Silberman plays at improvisation 10+ hours a week. He studied at ImprovBoston for 4 years, and has taken multiple workshops at Camp Improv Utopia and the Ocean State Improv Festival. His virtual mentors include David Razowsky, Patti Stiles, Michael Gellman, Lee White, Jeff Michalski, and Andrew Heffler. David has performed in in-person shows at ImprovBoston and The Armory, and festivals around New England (Vermont Comedy Club, Contemporary Theater Company and Sea Tea Improv). He has performed live as a member of the troupe Elderberry Jam and on the virtual stage as part of the troupes Wait…What??!!, Sonic Boom Boom and Ménage à Duo. Rarely offensive by intent, David sometimes finds himself saying, "Whoops…. did I just say THAT?"
Cheryl Solimini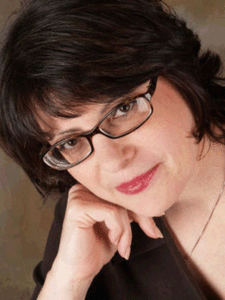 "We don't stop playing because we grow old; we grow old because we stop playing."
A Jersey Girl exiled to Milford, Pennsylvania, Cheryl Solimini had her first experience as a performer of any kind at Camp Improv Utopia East in 2015, where she was presented with the "Best First-Time Improviser" award. (That Cheryl was the only first-time improviser out of the 100 camp attendees did not diminish her joy or the honor.) Since then, she has returned to CIUEast nearly every year; workshopped with renowned instructors through festivals such as VIF and Zoom classes; and performed at the Scranton Fringe Festival, at Woodloch Resort (a paying gig!) in Hawley, Pennsylvania, and at every Vintage Improv Festival, IRL and virtual. Cheryl's article "Make a Scene,'" introducing kids ages 6 to 12 to improv, appeared in Highlights magazine in May 2020 and is on the Highlights website. She is also the author of the humor book The Not-So-Silent Passage: How to Manage your Man's Menopause (Without Committing Manslaughter).
Aner Tal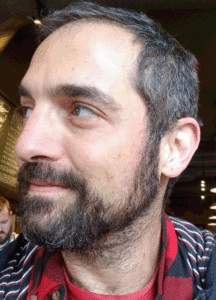 " We are what we pretend to be, so we must be careful about what we pretend to be."
Aner Tal of Tel Aviv, Israel, has been improvising since the first decade of the 21st century, and would have been improvising from earlier on if he had access to a time machine. He has trained with Comedy Worx NC (formerly I/O South), Improv Theater Tel Aviv, Artistic New Directions New York, The Nursery London, The Hideout Austin TX, Momentum Theater Chicago IL, and Impro Theater LA. In addition, Aner has trained extensively with Inbal Lori, Patti Stiles, and Lee White, as well as dozens of others in shorter-term classes and workshops. He is currently a member of Murder Cats and Dream Factory, both online improv ensembles active since 2020, and has formerly been a member of The Nursery House Team Professional Weirdos. He writes, teaches and has been known to do weird things with his body, including yoga and acroyoga.